Gay pride dog show looks for Newcastle's campest canine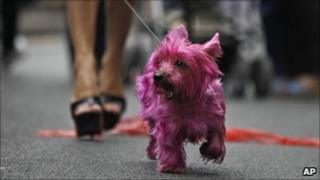 Dogs with the "feeliest fur" or the "campest" or "butchest" fancy dress will be competing for prizes at a gay dog show in Newcastle on Sunday.
The Paws with Pride dog show is being organised as part of the lesbian, gay, bisexual and transgender (LGBT) event Northern Pride.
The show at Leazes Park will feature 12 classes which also include waggiest tail, dog and owner most alike, cheekiest expression and "dog the judge would like to take home".
Now in its second year, the event is primarily aimed at the region's LGBT community although the show's organiser, Ken Mortimer, said heterosexual entrants would be welcome.
He said: "People love a dog show, people love animals. That kind of love and enthusiasm for animals isn't determined by someone's sexual orientation.
"They'll come because they're competitive and they want their animal to win."
Mr Mortimer also pointed out that the dogs themselves do not have to be gay.
The show started last year after fans of a previous gay pet competition, the Pride Pet Show, campaigned for its resurrection.
Mr Mortimer said: "It became quite legendary. When Northern Pride got set up people kept asking for the pet show to come back."
Sunday's entrants do not need to register beforehand but the show is adhering to Kennel Club rules which say dogs must be at least six months old.
There will also be a "bonniest cat photo" competition, although the organisers are asking owners not to bring actual cats.