Hundreds offer home for 'scared' Northumbria Police dog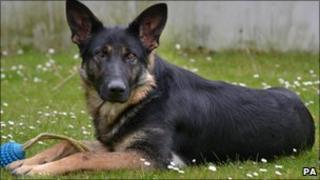 There has been an overwhelming response to find a peaceful and stress-free home for a "frightened" Northumbria Police dog, the force has said.
Officers stopped trying to train Vegas when it became clear she was too timid to bite and was scared of noise. She was also nervous around children.
A re-homing appeal was launched, which resulted in more than 300 telephone calls and emails in two days.
These are now being processed and no new applications are being taken.
Police dogs are expected to track criminals and missing people, ignore loud noise and bark or bite on command.
However Vegas, a German shepherd, was described as "hesitant and tentative" and the decision was made to end her training.
Sgt John Sim said: "She didn't particularly take to biting and, unfortunately, although it's not the be all and end all of a police dog, it's one of the things that they do have to do.
"She wasn't showing any sort of inclination that she was wanting to bite, or biting particularly well."
He added: "She's not a scaredy cat. She's actually a lovely, lovely laid-back dog. For the right people in the right environment, she would make a lovely pet."