Durham congestion-cutting scheme replaced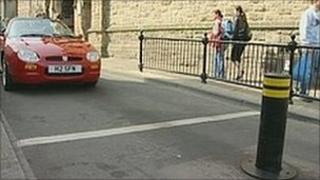 Durham's congestion charge is being changed to an automatic number plate recognition system.
Motorists have previously had to pay to be allowed past a retractable barrier which was installed in 2002 in the UK's first congestion-charging scheme
This is now being replaced by a system using cameras scanning number plates and matching them against a database.
They will be switched on from Monday but charges will not be brought in for a month.
This is to give people a chance to register vehicles which will be exempt, such as motorbikes and emergency vehicles.
Registered exempt numbers will be ignored and those which have not been pre-paid will be asked to pay a £2 fee.
There is a risk of a £30 fine for those who do not pay.
The cameras are positioned on the corner of Saddler Street and Claypath.