Newcastle opens book of condolence for Norway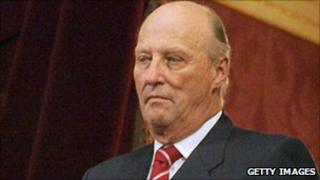 A book of condolence has been opened at the Newcastle Civic Centre following the massacre in Norway.
People are invited to pay their respects in the book which will be sent to the prime minister of Norway.
A letter of condolence has been sent to the King of Norway, a recipient of the Honorary Freedom of Newcastle.
Anders Behring Breivik has admitted responsibility for a bomb in Oslo and a shooting spree on a nearby island that killed 76 people.
The book follows a message of condolence which has been sent to the Mayor of Bergen, Newcastle's twin city.
As well as having trade, education and cultural links with Norway, Newcastle's twin city Bergen annually presents Newcastle with a Christmas tree as a gift.
Newcastle's Lord Mayor Geoff O'Brien told BBC Newcastle: "I think everyone here feels absolutely stunned and shocked by the events that have unfolded there."
Nick Forbes, leader of Newcastle City Council, said: "This is an extremely sad time and I would like to express my sincere condolences to the people of Norway.
"For many years the people of Newcastle have had close ties with Norway and I am sure the whole city will join me in paying respects to those who have been affected by the events of last week."