Sir Bobby Robson's cancer charity legacy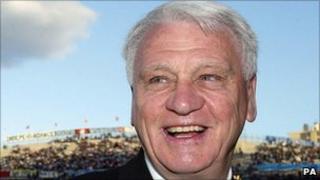 The family of football legend Sir Bobby Robson has said he would have been proud at the ongoing work of the cancer charity he founded.
Speaking on the second anniversary of his father's death, Mark Robson has said they were grateful to the public for its ongoing support.
Set up in 2008, the Sir Bobby Robson Foundation has raised more than £3.5m.
Achievements include the creation of a new medical research centre at Newcastle's Freeman Hospital.
The County Durham-born former England, Newcastle, and Ipswich manager died on 31 July 2009 after his fifth battle against the disease.
Mark Robson said: "It's incredible how great the support and feeling for dad still is.
"Dad described the Sir Bobby Robson Foundation as his legacy to help other people fighting cancer and that's just what it is.
'Great pride'
"In addition to what we've already funded, the medical trustees of the charity are investigating some very promising new pieces of cancer equipment and potentially funding additional research personnel.
"It's something my mum, my brothers and I take great pride in."
He added his father would be "touched and proud at the ongoing work in his name".
"We do feel we are achieving something for him," he said.
"I can't think of a better way to remember him than to help the experts find more effective ways to combat cancer.
"He would like that."