St Mary's Church in Felton to be auctioned from pulpit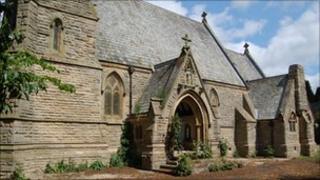 A Northumberland church is going under the hammer later this month and the auction is to be conducted from the church's own pulpit.
The potential home boasts a spire, stained glass windows, angels and gargoyles.
Michael Bell, from estate agents George F White, said: "George White himself will be stood in the pulpit looking down on what would have been a congregation of worshippers but now a congregation of hopefully happy bidders."
He explained they would normally hire a venue for an auction, but said: "With this property, it is the venue.
"We realised we already had the perfect place, the church itself."
Dating from 1857 and the work of architect Gilbert Blount, St Mary's in Felton was built as a private chapel for the Thomas Riddell family and was part of Felton Hall.
The church was deconsecrated some time ago and, although it is set in its own grounds, it does not have a graveyard.
It has not been used for about five years and is being sold with full planning permission and listed building consent to convert it into a four-bedroom home.
Mr Bell said: "It has stood the test of time very well and is still in very good condition. However, it's obviously going to take some effort to turn a large church into a home."
The plans incorporate the church's old balcony and the large space currently occupied by the original nave and chancel.
Mr Bell accepts the size might put off some buyers: "That's really what any potential purchaser has thought when they've walked through that door.
"They've thought, great, it's a fantastic sized building but how on earth do we convert this into a residential dwelling.
"In my very short career as a land agent I have not had the opportunity to sell a property like this and I dare say I never will again."