Bid to solve Holy Island driver strandings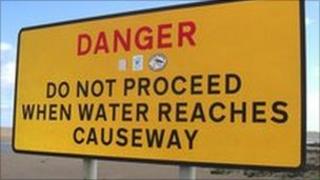 A meeting is being held to try to solve the problem of motorists becoming stranded on the Holy Island causeway.
Seahouses RNLI crew have been involved in nine call-outs this year to the Northumberland tidal causeway and say it is a growing problem.
Rescuers say they continue to be baffled as to why drivers ignore safe crossing times.
Northumberland County Council has set up a meeting on 23 August and is inviting people with ideas to go along.
Seahouses Lifeboat operations manager Ian Clayton said: "It seems to be getting worse this year."
'Unbelievable'
He said since 2000 they had rescued about 177 people from the causeway.
He said: "It is just unbelievable that people, despite all the warnings, all the publicity in the media, they just continue to drive across completely oblivious to the warning signs warning them not to cross when the water has reached the causeway."
Northumberland councillor Dougie Watkin said the problem was mostly with drivers leaving the island.
He said about 250,000 vehicles a year used the causeway.
He said: "Make no mistake, people going to Holy Island are in no danger at all.
"It's quite simple, if you don't drive into the North Sea you won't get stuck and people who are getting stuck are driving into water."
Among the possible solutions could be a sign on the island to make it obvious when it was safe to cross, he said.