Car crashes into Alnwick market stalls, injuring five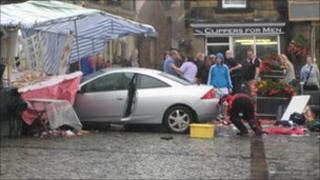 Five people have been injured after a car crashed into several market stalls in a Northumberland town.
Police said the silver Ford Cougar, driven by a woman, crashed in Alnwick Market Place at about 16:30 BST injuring three women and two men.
Northumbria Police said they were treated at the scene and their injuries were not life threatening.
Eyewitness Andrew Shaw, 49, from Driffield, East Yorkshire, said it was a "miracle" more people were not hurt.
The engineer was on a day trip to Alnwick with his wife Nicola and daughter Sophie, two.
'Diving over stalls'
They had planned to go to Alnmouth beach but decided to go to Alnwick instead because of the rain.
Mr Shaw said: "We were sheltering under a stall canopy from the rain when I heard a commotion and people screaming. I saw the car hit a man - and then go into at least three stalls.
"It was like a stunt from a movie - I was about 20ft away and I could see people diving over stalls to escape.
"The police and paramedics were ushering those injured into cafes. I'm a pretty level-headed person but I was shocked by the scene.
"It's a miracle it wasn't a lot worse - it could have been a crash on a different magnitude, but there were not that many people there because of the rain."