Largest ship in Port of Tyne brings coals to Newcastle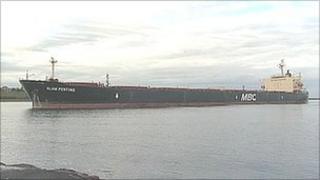 The largest cargo vessel ever to moor at the Port of Tyne has arrived in the river - bringing "coals to Newcastle".
The 750ft (230 metre) long Alam Penting has a cargo of 75,000 tonnes of coal, from New Orleans, destined for power stations in Yorkshire.
The huge ship only managed to navigate the Tyne after a recent £5m dredging operation made the river deeper than it has ever been before.
The port said it expected similar-sized vessels to use the river in the future.
Steven Harrison, Chief Operating Officer at the Port of Tyne, said: "Deepening the river is essential to enable us to compete against other European ports and continue to expand to accommodate large fully laden ships.
"The industry trend is for large ships to carry larger cargos, this provides economies of scale for customers importing and exporting goods.
"The Port has made significant strategic investment in excess of £5m to deepen the river and to meet this demand."
Once the coal is offloaded, some will immediately be sent out via rail freight trains to the Drax power station.
The rest will be stored at the Port of Tyne.