Marine buoys turned into Tyne Tunnel art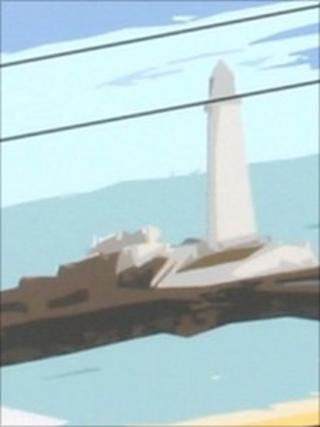 Three former marine buoys covered in historic railway poster-style images of the North Tyneside coast are soon to be seen by millions of motorists.
They will be seen by up to 40,000 drivers every day when the new Tyne Tunnel project is complete in December.
The £15,000 scheme is a joint project involving North Tyneside Council and Tyne Tunnel operator TT2.
Jarrow artist Lynda Nelson produced the designs, showing St Mary's Lighthouse, Tynemouth Priory and a surfer.
She will paint the 10ft (3.1 metre) high buoys by hand.
A North Tyneside Council spokeswoman said: "North Tyneside is the gateway to an amazing coastline.
"These buoys will be seen daily and help reinforce what a superb natural asset we have on our doorstep.
"And it supports my commitment to regenerating our coastal areas by investing £1m every year for the next three years."
The buoys will be sited at the exit of the northbound tunnel, which is currently undergoing work to bring it up to the modern standards of the new southbound road tunnel.
Once complete the New Tyne Crossing will offer two, dual carriageway road tunnels under the Tyne, one for southbound traffic and one for northbound.
A judging panel decided Lynda's designs were the best.
The 31-year-old artist said: "It will be great to have my work seen by so many people.
"I was influenced by 1920s and 1930s railway posters, in particular the simple, blocky style and colours of them."