Durham man Mark Allison finishes 3,100-mile USA run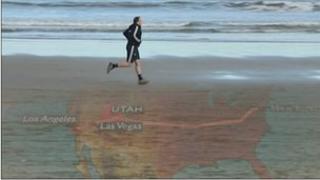 A County Durham man has completed a 3,100-mile run across the USA in memory of his father and brother.
It has taken Mark Allison 100 days to run from California to New York, doing an average 30 miles a day. He has lost 5st (31kg) on the way.
Mr Allison left Huntington Beach, near Los Angeles in California, at the start of May and arrived at the pier of Coney Island on Tuesday at 02:10 local time.
He has raised more than £55,000. The runner said the final day was "tough".
'Safely through'
Mr Allison, a Northern Rock IT contractor, said he used to be an "18st obese Geordie who loved bacon sandwiches, football and pies", before becoming a charity runner.
He added: "The USA run brought [that] to a successful end.
"Thanks to the NYC Toon Army supporters branch for helping me through the last 13 miles and to Carlton Fletcher for navigating me safely through to Manhattan."
His route has taken him through 13 states: California, Nevada, Arizona, Utah, Colorado, Kansas, Missouri, Illinois, Indiana, Ohio, Pennsylvania, New Jersey and New York.
He has run in all kinds of conditions, including snow and desert temperatures of 46C (115F).
His trek across the US is the equivalent of 236 Great North Runs.
The marathon challenge was in memory of his mother who died in 1995, father Terry, who died of cancer in 1988, and his brother David, who died from a brain haemorrhage in 1998.
'Tired and anxious'
In the summer of 2007, Mr Allison ran 874 miles from John O'Groats to Land's End in 37 days.
The runner has kept supporters informed during the challenge via Twitter, a blog and his website.
He has also been dedicating daily miles in memory of the loved ones of his friends and supporters.
On Day 99, Mr Allison wrote: "I'm writing this one while having my breakfast in Phillipsburg, New Jersey. My feet are in a right state and I'm very tired and anxious.
"I'm hanging on in there, though, with only 96 miles to go to the finish line. Thank you to everyone who has made a donation.
"Today's miles are in memory of Nora Holland."
The money raised will go towards St Benedict's Hospice and The Children's Foundation.