Policeman hurt and car destroyed in Washington attack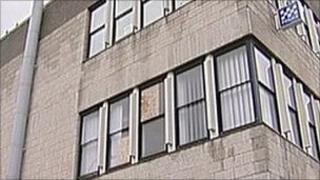 A policeman has been injured and a car destroyed by fire after Washington police station was attacked by youths.
Northumbria Police said the officer was hit by flying glass when a missile was thrown through a window of the station at about 03:00 BST on Wednesday.
Six youths were seen running from the scene and two males, aged 17 and 19, were later arrested.
The Northumbria force said the attack was an "isolated" incident and there were no other reports of disorder.
A spokesman said: "This was an isolated incident, but we are prepared for all eventualities."
The officer was taken to hospital for treatment for a minor injury and later released.