Durham's Mark Allison home after 3,100-mile run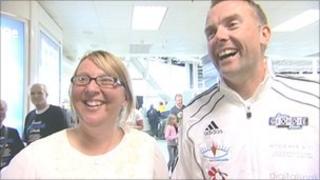 A County Durham man who completed a 3,100-mile charity run across the USA has arrived back in the North East.
It took Mark Allison 100 days to run from California to New York, doing an average 30 miles a day. He lost 5st (31kg) on the way.
Mr Allison finished his challenge on Tuesday and arrived at Newcastle Airport on Friday.
The 40-year-old, of Shotley Bridge, was met by wife Katy and son Jack, seven. He said his feet were in a "bad state".
The marathon challenge was in memory of Mr Allison's mother, who died in 1995, father Terry, who died of cancer in 1988, and his brother David, who died from a brain haemorrhage in 1998.
'Made us proud'
Mr Allison, who has raised more than £80,000 for charity, said: "I'm in a bit of a state because there was a heat wave towards the end of the run - my feet swelled up and I've got a lot of blisters, but I will sort them out quite soon and be back running."
His wife said she could not wait to get him home to "do jobs round the house".
His son Jack, seven, said: "I thought he had lost the plot doing it, he has made us proud, made us cry and made us laugh."
Mr Allison's route took him through 13 states including California, Kansas and Illinois.
He ran in all kinds of conditions, including snow and desert temperatures of 46C (115F).
The money raised will go towards St Benedict's Hospice and The Children's Foundation.
On Saturday he will do a lap of honour at St James' Park before the Newcastle United v Arsenal match.