Newcastle midfielder Joey Barton helps 'catch burglar'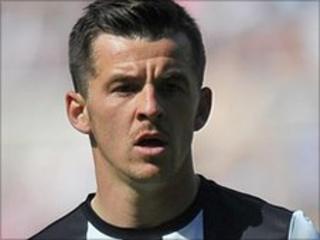 Premier League star Joey Barton has told how he helped police to catch a suspected burglar.
The Newcastle midfielder told his 380,000-plus Twitter followers that he heard a noise at a neighbour's house.
He wrote: "05:26 was awoken by a banging sound, burglar attempting to break into neighbour's house. Needless to say he was apprehended."
Police later viewed CCTV footage taken from Barton's home in Jesmond on Sunday as part of their inquiry.
Officers said a 25-year-old man had been arrested on suspicion of burglary.
Barton added on Twitter: "He was so subtle he attempted to put a massive log through the window.
"What with the burglar and Arsenal game, it's been an incident-packed 24hrs."
Window broken
Northumbria Police said: "Police received reports of a disturbance at an address in Jesmond.
"At around 6am, police attended the scene where a window had broken.
"Officers searched the area and a 25-year-old man was arrested on suspicion of burglary."
Barton was at the centre of a controversial sending off in Newcastle's 0-0 draw at home to Arsenal on Saturday evening.
He grabbed opposing striker Gervinho, who was given a red card for striking out at the midfielder.
Barton was give a yellow card for his part in the incident.