'Vikings' warn of Holy Island crossing danger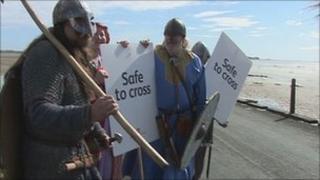 "Viking raiders" returned to an island off the Northumberland coast for the first time in 1,000 years to reinforce the dangers of a tidal crossing.
A "war party" took to the Holy Island causeway to warn motorists not to ignore safe crossing times.
Rescuers have responded to 17 incidents so far this year involving vehicles stranded in the North Sea.
The event marked the start of the Viking Week festival on the island - also known as Lindisfarne.
Jon Hogan, events manager at English Heritage, urged visitors to check tide times to ensure safe passage across the causeway to the island.
He said: "Our Vikings have been helping the island community to highlight safe crossing times to visitors, at the same time as giving visitors a real taste of the terrifying and brutal way they lived."
The Vikings, played by members of the Norse Film and Pageant Society, also gave visitors a taste of how they secured their place as one of the most brutal races in history.
Lindisfarne's Priory was attacked in 793 AD by Viking raiders who sailed directly across the North Sea to Northumbria.
To launch the celebrations, a full-scale replica Viking ship, complete with carved head and Viking crew, has been moored on the island.
A full-scale battle between Viking forces will take place next weekend.
Viking Week ends on Sunday.