Events mark 10 years of Gateshead Millennium Bridge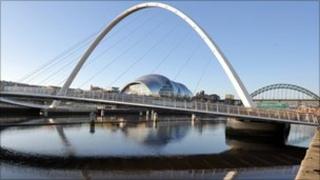 A host of events are being planned to mark the 10th anniversary of Gateshead's Millennium Bridge.
The structure - dubbed the blinking eye bridge because of its ability to tilt to allow ships pass under it - opened to the public on 17 September 2001.
The £22m bridge spans the River Tyne, linking Newcastle and Gateshead quaysides and has won several awards.
Celebratory events include the launch of an ale and an open-air concert accompanied by a bridge light show.
Mick Henry, leader of Gateshead Council, said: "The Gateshead Millennium Bridge has become such a familiar part of our riverscape that it's incredible to think it's only been here for 10 years.
"Yet, in that short time, the Gateshead Millennium Bridge has become famous throughout the world and it's an absolute must-see for any visitor to Tyneside.
Floating crane
"We are organising a whole series of special events over the coming weeks to celebrate.
"This may be Tyneside's newest bridge, but it's already a major part of our culture. That's something worth celebrating."
The bridge was developed as a result of an international design competition, launched by Gateshead Council in August 1996, to find a bridge that would complement the existing six bridges crossing the Tyne.
The competition attracted more than 150 entries, with the winning design by Wilkinson & Eyre Architects and Gifford & Partners.
The finished bridge was transported six miles up the river to its final position, in November 2000, using Europe's largest floating crane.
It was officially opened by The Queen on 7 May 2002.