Medals stolen from Newcastle war veteran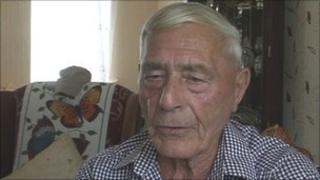 A World War II veteran has appealed to the public for help in recovering eight medals stolen from his Newcastle home.
George Garner was involved in the Normandy landings and went on to serve around the world with the 1st Battalion Royal Northumberland Fusiliers.
Items including End of War, Victory and United Nations Career medals were taken during a burglary at his Walker home.
The 84-year-old said the thieves acted like a "pack of hyenas" and should return the medals taken on Saturday.
The thieves broke in through a window at the back of his home.
He said: "I don't know why they took them - you would think a pack of animals like hyenas had been through the window. They ransacked my home.
"It is the memories behind the medals that gets to me.
"I'd like to get them back, they mean a lot to me."
A man described as being in his 20s or 30s, with blonde or light ginger hair, was seen in the back garden of the property between 09:00 and 10:00 BST.
Anyone with information or who is offered medals for sale is asked to contact Northumbria Police.