NHS artificial legs criticised by Durham army amputee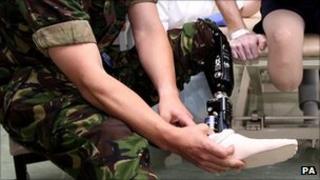 An amputee soldier from County Durham has criticised the quality of artificial limbs provided by the NHS.
Chris Parkes lost a leg in Helmand in Afghanistan in 2009 and has a prosthetic limb provided by the Army.
He described NHS prosthetics as "almost prehistoric" and said the leg a friend received from the health service was like a pirate's "peg leg".
A spokesman for the NHS said it was reviewing the "effectiveness of prosthetics services" for veterans.
Rifleman Parkes said he was worried when he left the Army any replacement limbs he needed would be inferior to the one he had now.
He said: "There's no way... I would get the same level of technical prosthetics.
"I've got friends who are amputees who've received their prosthetics through the NHS and it's almost prehistoric, looking at some of their prostheses and then looking at some of the ones you will receive through military care.
"The leg I'm wearing now is designed for stability. It has an adjustable heel so I can run. The feet will bend. It's not the most advanced, but it's quite advanced."
'A wooden stick'
Rifleman Parkes, no longer able to serve on the front line with The Rifles regiment, has decided to leave the Army.
His concern is that he might have to rely on help from charities to pay for anything more advanced than that offered by the NHS.
He said: "One of my friends on the NHS who has a prosthetic, it's a wooden stick basically.
"If you imagine a pirate who has a peg leg it's not too far from the truth. It's half wood, half plastic."
'Personal objective'
General Sir Nick Parker, Commander-in-Chief of Land Forces, was also concerned.
His son lost his legs in an explosion in Afghanistan in 2009.
He said: "I have a particular interest in prosthetics and I think it's terribly important that those who leave the Army have the confidence that they will get the same level of prosthetic care when they leave as when they're in and I will certainly make it a personal objective to ensure that that happens."
A spokesman for NHS North East said it was looking at veterans' rights to have "the highest quality Ministry of Defence prosthesis".
A statement said it was reviewing the "effectiveness of prosthetics services in the NHS in England for veterans who have lost a limb while serving their country".
"No final decisions have been made yet - but the intention is to ensure that the standard of a prosthesis which a veteran might receive following rehabilitation is maintained when their care is transferred to the NHS."