Newcastle student Elsie Richardson, 85, starts PhD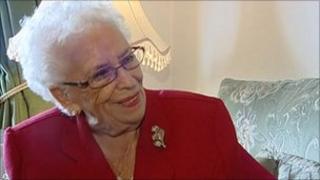 An 85-year old woman from Newcastle has begun studying for her PhD, after obtaining a degree and a masters in the past 15 years.
Elsie Richardson, Northumbria University's oldest student, revisited her student lifestyle at 70, studying for a degree in human organisation.
After completing her Masters at 75, she is now working towards her doctorate, while recovering from bowel cancer.
Mrs Richardson has also been nominated to carry the Olympic torch in 2012.
The grandmother, from High Heaton, battled against eight other students to win a bursary to study a PhD at Northumbria University.
She is writing her thesis about the influence of older people on policy making in the 21st Century.
She said: "I thought 'they're sure to pick the youngsters, they're bright young things instead of an old fogey like me', however, I got it and I couldn't believe it, and I've never stopped working since."
After graduating with a bachelor's degree in human organisation at 73, she then became a qualified psychotherapist at 75 after completing a masters in post natal depression.
Studying has become more difficult over recent years as Mrs Richardson suffers from diabetes, arthritis and macular degenerative disease - which means she is losing her sight.
In May Mrs Richardson was about to go on a cruise with her daughter when she was diagnosed with bowel cancer.
However, after an operation in July, she has since got the all-clear.
Dancing on tables
She said: "I'm very lucky to have got over this cancer because they've told me it's completely cleared and they have no reason to believe it will come back."
The mother of three missed out on the chance of further education when she was younger because of World War II.
At the age of 58, she retired from her job in insurance and turned her hand to volunteering for local groups and works "very hard every day".
Her life experience, she said, was what kept her among the top five students in her classes.
Mrs Richardson was always in the top five of a class of 30 and made some good friends on her course.
She said: "Whenever they had spent all their money, I fed them and they used to come and have their dinner with me.
"Everywhere they took me, I went, and I've been to some funny places... I've been to parties where they've danced on tables.
"I had a wonderful three years doing my bachelors, I laughed the whole time.
"I say to anybody, it's never too late. Go and try it, you don't know what you can do until you try and nobody was more surprised than I was."
Dr Mick Hill, from Northumbria University, who has worked with Mrs Richardson, said: "Elsie is a remarkable student - but not only because of her age.
"[She is] a person with tremendous passion and enthusiasm for her subject matter.
"I know this is driven by her strong personal sense of advocacy for older people. She is a highly effective spokesperson for her generation."