Justin Bieber fans celebrate idol with Newcastle parade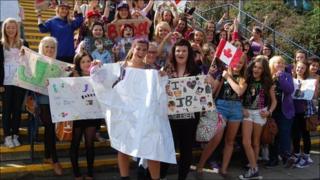 Justin Bieber fans from north-east England joined together to celebrate their idol with a parade in Newcastle.
Organised on Facebook, 'Beliebers' got together to show their appreciation for the 17-year-old Canadian singer on Thursday.
Even though the singer has had just one top-10 hit in the UK, Bieber Fever seems to be alive and well in England.
He has inspired music fans and singers alike of all ages in the North East.
Gathering on Tyneside, the fans paraded around Newcastle singing Justin Bieber songs, waving their flags and wearing Justin's favourite colour purple.
They are hoping to be noticed by the teenage superstar on his Twitter page.
The Facebook group attracted more than 450 fans to show their support.
Previous gatherings by fans in Chile and Denmark were noticed by the singer on social networking site Twitter and the North East Beliebers are now hoping to follow in their footsteps.
Dedicated fans, who even knew the exact minute the multi-award-winning singer was born, are keeping their hopes up that mentions of their parade will be retweeted.
"I'll cry," said three fans when asked how they would react if Justin Bieber retweeted them.
An early showing of eight people at 14:00 BST swelled very quickly to more than 50, with the promise of more on the way.
Fleur, 12, from Sunderland was one of the organisers of the parade.
"We're supporting our idol... we're hoping to get noticed by him."
Fleur is not alone when she describes what she likes about the popstar.
She said: "His smile, his eyes, his hair, his voice."
Nick, from Newcastle, wants to be a singer and has already supported fellow Geordie Joe McElderry at Newcastle City Hall.
He said: "Justin's around the same age, an inspiration, and came from nothing to stardom overnight.
"I sing as well and you aspire to be like someone so successful."