Durham traffic cut charging starts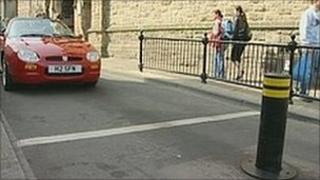 Motorists driving in part of Durham's historic centre are being warned a road charge scheme has now been reintroduced.
An automatic number plate recognition system has replaced the rising bollard introduced in 2002.
The cameras were switched on last month but the charges have only just been brought in.
Cameras have been mounted on the corner or Saddler Street and Claypath and non-exempt drivers will be charged £2.
The scheme is part of Durham County Council's efforts to reduce traffic in the area.
The month-long period between the cameras being switched on and the charges starting was to allow people to register exempt vehicles, such as emergency vehicles.
Council Cabinet member for regeneration and economic development, Councillor Neil Foster, said: "We have said on many occasions that we want to reduce traffic in this part of historic Durham to make it a more enjoyable area for pedestrians.
"We need to balance the needs of local people and businesses with those of visitors and the environment and this new system will support that."
Fines of up to £30 may be given to those who do not pay.