'Urgent need' to find sex offender Graeme Jarman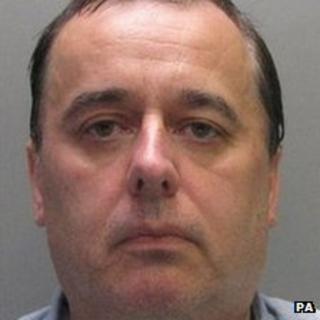 Police forces across the UK are helping to locate a sex offender who is a suspect in the murder of a 77-year-old Northumberland woman.
Northumbria Police said there was an "urgent need" to find Graeme Jarman, 47, who disappeared from his County Durham home on 17 August.
They have warned he should not be approached.
Pensioner Judith Richardson was the victim of a "brutal" hammer attack at her home in Hexham on 19 August.
Mr Jarman, who lives in Consett, was last seen in Stockton town centre on Friday.
Police have released CCTV footage of him boarding a bus in Stockton.
About 80 detectives from the Northumbria, Cleveland and Durham forces are involved in the inquiry and his details have been circulated to UK forces.
Changes appearance
Det Ch Supt Neil Adamson, from Northumbria Police, said: "This was an incredibly disturbing and horrific attack.
"It was inflicted on a defenceless elderly lady, in her own home, minding her own business, in the middle of the day.
"The level of injuries inflicted were dreadful, to say the least.
"All the more reason for us to make this appeal to the public to locate the person we now want to speak to in connection with this inquiry, this Graeme Jarman. There is an urgent need to locate him."
Mr Jarman is described as heavily built, of average height with a shaved head.
Det Supt Rob Coulson, of Durham Police, said Mr Jarman was known to change his appearance.
He said: "Mr Jarman's offending history per se makes him a dangerous offender.
"That's compounded by the fact he changes his appearance.
"He's educated. He's described as a sociable fellow who's able to engage with people in conversation and build their confidence."
The details of Mr Jarman, who failed to appear in court on a shoplifting charge on 23 August, have been circulated to forces throughout the UK.
Police discovered Miss Richardson's body after her stolen handbag and some of its contents were found in a litter bin 25 miles away in Clayton Street in Newcastle city centre.
A post-mortem examination showed Miss Richardson died from head injuries.
Police found a hammer in a plastic bag in the street near her St Wilfrid's Road home and have confirmed it was the murder weapon.