Penshaw Monument opened for guided tours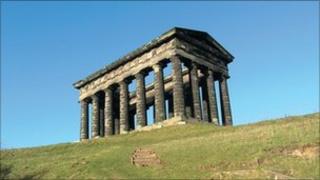 People had a rare chance to climb a landmark in the north-east of England and enjoy panoramic views.
The National Trust held guided tours of Penshaw Monument, near Sunderland.
Visitors enjoyed panoramic views from the roof after climbing a spiral staircase concealed in one of the pillars.
The National Trusts said it was overwhelmed by interest in the tours and now plans to open the monument for further tours in the future.
Penshaw Monument was built in 1844, designed by John and Benjamin Green.
It is dedicated to John George Lambton, first Earl of Durham and the first Governor of Canada.
Kate Horne, from the Trust, said: "We've been delighted that so many local people have come today to join a tour of Penshaw Monument.
"We will definitely be opening the monument again soon, and if anyone didn't get the chance to join a tour, we're taking contact details of anyone interested so that we can get in touch when new dates have been set."
The £5 charge for the tours will go towards the future management of Penshaw Monument, the Durham Coast and other coast and countryside sites in the area.