Mother in plea to Judith Richardson murder suspect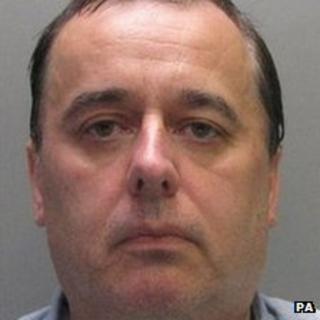 The mother of a sex offender who is a suspect in the murder of a 77-year-old Northumberland woman has appealed to her son to hand himself in to police.
Police have described Graeme Jarman, 47, as "a risk to the public". They are looking for him in connection with the murder of Judith Richardson in Hexham.
She was the victim of a "brutal" hammer attack at her home on 19 August.
Mr Jarman's mother Irene urged her son to hand himself in to police because it was "the best thing you can do".
He went missing from his County Durham home shortly before Miss Richardson was found dead at her home in St Wilfrid's Road.
Mr Jarman's 71-year-old mother said: "Graeme you need to hand yourself in immediately at the nearest police station, it's the best thing you can do.
"You've handed yourself in before and you can do it again."
Police have warned that Mr Jarman should not be approached.
He lived in Consett and was last seen boarding a bus in Stockton-on-Tees on Friday.
About 80 detectives from the Northumbria, Cleveland and Durham forces are involved in the inquiry and Mr Jarman's details have been circulated to UK forces.
Det Ch Supt Neil Adamson, who is head of crime at Northumbria Police, said: "I would like to join Mrs Jarman in urging Graeme Jarman to contact police straight away as we need to find him without delay.
"We are also asking for the public's help to find him by contacting us immediately if they see anyone who looks like him or have any information that could help us locate him.
"I must stress that we are asking people not to approach him as he is a violent and dangerous man."
Det Supt Rob Coulson, from Durham Police, added: "We know that Mr Jarman travels around using the bus networks and frequents libraries, charity shops, and bed and breakfasts.
"He is intelligent and articulate and likes to strike up conversations with people.
"He has recently shaved his head and sometimes wears hats which change his appearance."
He is described as heavily built, of average height and clean shaven.
Police discovered Miss Richardson's body after her stolen handbag and some of its contents were found in a litter bin 25 miles away in Clayton Street in Newcastle city centre.
A post-mortem examination showed Miss Richardson died from head injuries.
Police found a hammer in a plastic bag in the street near her St Wilfrid's Road home and have confirmed it was the murder weapon.