Penshaw Monument opening: National Trust turns hundreds away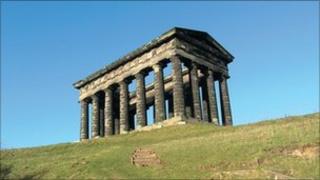 Hundreds of people were turned away from a Sunderland landmark after it was inundated with visitors at an open day.
More than 500 people turned up to the first opening of Penshaw Monument in 85 years, but the majority were asked to leave by the National Trust.
Trust staff said they had only anticipated about 75 people at the event. But those turned away will be given priority on future open days.
Property manager Bob Dicker said: "To be honest, we got caught out."
Only 75 people got to climb the hidden spiral staircase, with the rest asked to return to the next opening.
Mr Dicker said: "It was on a first come first served basis and we really were caught out, we never expected that sort of response."
'Two generations'
Visitors were taken on guided ascents to the top of the monument, which marks the highest point in Sunderland.
The staircase was closed in 1926 when a teenage boy fell to his death from the 66ft-high walkway.
Due to the interest at the bank holiday weekend event, the trust now plans to open the monument for further tours in the future.
Mr Dicker said: "I'm very, very pleased with the response, it proves the point that the monument should be open.
"One woman said to me, 'we've waited two generations for this, we're really excited', and I think that's where the disappointment came, so many people were so desperate to get to the top of this iconic landmark."
Contact details from those unable to climb the monument were taken on the day and they will be given priority for the next tours in September and October.