Raoul Moat victim PC David Rathband separates from wife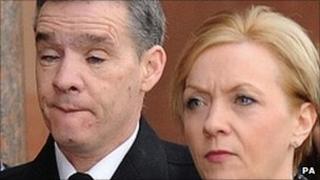 The Tyneside police officer blinded by gunman Raoul Moat is to live separately from his wife and family, his spokeswoman has said.
In a statement, father-of-two PC David Rathband said the separation from his wife Kath was for rehabilitation so he could continue to support his family.
He stressed the decision was not related to his recent arrest on suspicion of assault.
The 43-year-old was shot twice by Moat last July as he sat in his patrol car.
The statement said: "As part of David's continued rehabilitation and so that he can come to terms with his horrific injuries and learn to live independently, he is starting a rehabilitation programme on Monday which means he will be living separately from Kath and his family.
"David and Kath are very much still a married couple who love each other and who have two children to consider and their separation is purely for David's rehabilitation and so that he can ultimately continue to support his family.
Close range
"This decision is in no way connected to David's arrest and no formal allegations have been made and both David and Kath consider this matter closed."
PC Rathband was arrested on 23 August after officers were called to an incident at his home in Cramlington, Northumberland. He was released shortly after police arrived.
The officer, who joined the Northumbria force in 2000, lost vision in both eyes after being shot at close range during the manhunt for fugitive Moat, who shot and injured his former partner Sam Stobbart and killed her new boyfriend, Chris Brown.
Last year PC Rathband, who has two teenaged children, set up the Blue Lamp Foundation, a charity offering help to injured members of the emergency services.
The inquest into the death of Raoul Moat, 37, is due to begin on Monday.