Morpeth boy in Junior Great North Run after beating cancer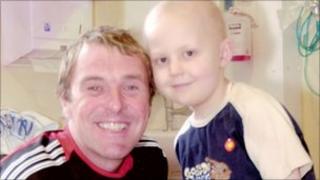 A 12-year-old boy from Morpeth who has survived cancer is taking part in this year's BUPA Junior Great North Run.
Jamie Hall was diagnosed with non-Hodgkins lymphoma in 2004, just weeks after celebrating his sixth birthday.
Now, after intensive chemotherapy, he has been given the all-clear and is taking part in the 4km (2.5m) junior run on Newcastle Gateshead's Quayside.
He hopes the money he raises for charity Leukaemia and Lymphoma Research will help others beat the disease.
Jamie was first admitted to the Children's Cancer Unit at the Royal Victoria Infirmary (RVI) in Newcastle in 2004, when he was six years old.
After tests, it was revealed he had hypereosinophilia, a blood disorder where patients have too high a concentration of a particular type of white blood cells.
'Massive shock'
His mum Sue said: "It was a massive shock and at first the doctors weren't sure if Jamie had meningitis or if he had leukaemia.
"The drug and steroid treatments were really tough on him to the point he couldn't walk and had to use a wheelchair, but he responded well and appeared to be recovering."
However, in 2005, lumps started appearing on his body and he was diagnosed with non-Hodgkin's lymphoma - undergoing 10 months of high intensity chemotherapy at the RVI.
Now after making a full recovery, he is doing well and is back at school.
Mrs Hall said: "I'm so proud. He was absolutely amazing, he just took everything that was thrown at him.
"He has four monthly check-ups at the moment but is doing really well and is happy giving everything a go - even sports day."
Along with a school friend, Jamie will be taking part in the Junior Great North Run on Saturday to raise as much money as he can to help the charity with its quest to find a cure for the disease.
Mrs Hall said: "He decided he wanted to take part for them [Leukaemia and Lymphoma Research] this year to support the charity.
"Research is absolutely vital. After seeing what Jamie has gone through, anything that can help others is so important."