Raoul Moat inquest attracts few onlookers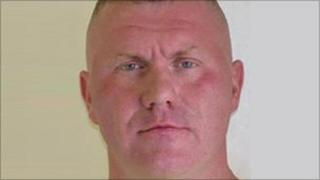 The final hours of gunman Raoul Thomas Moat cornered by the river at Rothbury - drew a steady stream of onlookers.
The Northumberland village became the focus of intense attention during the search for the gunman in July 2010.
As the week-long hunt for Raoul Moat came to an end, it was the subject of rolling news coverage.
But the beginning of the hearing into his death was notable for not drawing a single onlooker outside Newcastle Crown Court.
But such was the media interest into the hearing, that seats in the dock behind reinforced glass were provided to accommodate about 30 reporters.
There were fewer than 10 people in the public gallery and even some of those were thought to be reporters.
Circumstances examined
The 37-year-old gunman's estranged brother Angus Moat arrived an hour before the hearing, smartly dressed in a suit and sunglasses.
He looked tense but composed and sat quietly and attentively at the back of the court when the inquest began promptly at 10:00 BST.
A jury of six women and five men was sworn in.
Newcastle Coroner David Mitford said Raoul Moat's death was confirmed at the city's General Hospital on 10 July 2010.
"You are not here to take sides or apportion blame. This is an inquiry into the circumstances of Raoul Thomas Moat's death. You will not be pulled in one direction then another," he told the jury.
The first witness, Supt Jim Napier, of Northumbria Police, told the jury that more than 1,500 witness statements had been taken since Mr Moat's death.
He said the 37-year-old was wanted for the murder of Christopher Brown and the attempted murders of his ex-girlfriend Samantha Stobbart and of PC David Rathband.
Supt Napier said the former doorman had five children by four different women, had been arrested on 12 occasions by police over the years but had only one criminal conviction for assault for which he was jailed in April 2010 for 18 weeks.
He said Miss Stobbart had complained to police of domestic violence and described Mr Moat as a volatile character.