Northumberland lifeguard Andrew Kane represents England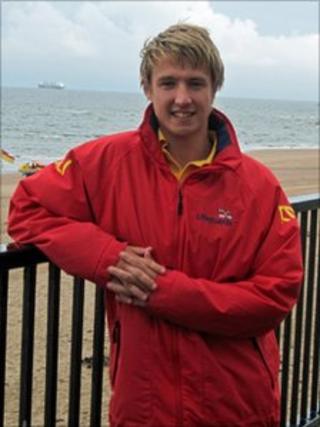 A Northumberland lifeguard will represent his country next month, joining the England team for the Commonwealth Lifesaving Championships.
Andrew Kane, 24, from Blyth, was asked to become part of the English national team after impressing coaches at several lifesaving competitions.
He became a beach lifeguard for the Royal National Lifeboat Institution (RNLI) earlier this year.
The competition takes place in South Africa from 27 September to 1 October.
To make the squad, results were taken from Mr Kane's performances from three major lifesaving competitions.
He said: "I was finishing pretty much in the top three of my events in those competitions so thought I would make it, but it was a relief to have it officially confirmed."
'Healthy camaraderie'
At the biggest of the three qualifying competitions, the British Lifesaving Pool Championships, he came away with two gold and three silver medals.
He also achieved a personal best and recorded the fastest time by a British athlete this year.
Mr Kane has been a member of Blyth Lifeguard and Swimming Club since he was six years old - training there for competitions with England coach Michelle Weedy.
He is now in his final month of training before the Commonwealth Lifesaving Championships.
"At competition time, there's a lot of drive to be the biggest and the best but throughout the rest of the year you have to maintain your training and that high level of fitness," Mr Kane said.
"Lifesaving competitions only enhance the work we do as lifeguards on the beach and there's a healthy sense of camaraderie and competitiveness around it."