Concerns over "Berlin Wall" in Prudhoe town centre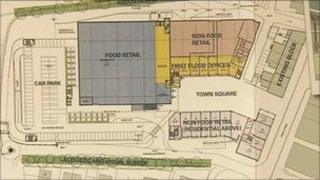 More than 200 residents have attended a public meeting called to discuss £20m plans to revamp a Northumberland town centre.
The Northumberland Estates proposals for Prudoe include a supermarket, 150 houses and a town square.
The County Council has received 5,000 objections including concerns about traffic, light pollution and noise.
The plans also include 2.5m acoustic barriers, nicknamed Berlin Walls by some locals.
Made of brick, they are designed to block out noise from increased traffic.
Myrtle Chalmers, of Cranleigh Grove, said: "What's generally a nice little street to stay in is going to be like a prison, I'm going to have a Berlin Wall outside my garden. I'm going to look right on to a wall."
Colin Barnes, head of planning at Northumbria Estates said: "There has to be a balance to providing acoustic protection and affecting people's views and we think we've got that balance right."
The County Council's head of development, Karen Ledger, said: "We don't just determine planning applications based on numbers of people who either object or support that application.
"We do it on planning grounds and we try to take into account local views in doing that but we have to come to a balanced planning judgement."