Sunderland Nissan workers celebrate 25th anniversary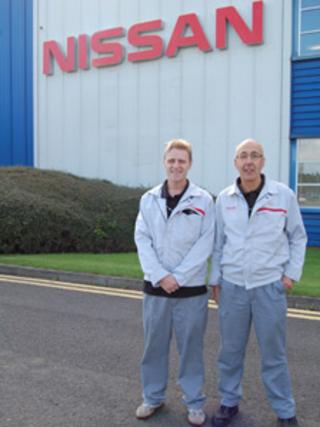 Nissan's Sunderland plant is celebrating its 25th anniversary - and for two employees it marks a quarter of a century since their career began.
Between them, Paul Middlemass and Kevin Skaife have worked at the factory for more than half a century.
"When I started in '86 I didn't think I would be here in 25 years time, but I am, and I'm proud," said Mr Skaife.
Now, the UK's largest car producer, Nissan has invested £2.68bn in the plant since production began in 1986.
It decided to establish a manufacturing base in Europe in 1981, and in 1984 it was announced it would be in Sunderland.
It was officially opened in September 1986 by Margaret Thatcher.
Since then, the number of employees has risen from 470 to about 5,000.
Electric future
Mr Middlemass, 51, from Houghton-le-Spring, had an exciting start to his career in 1985, with the first three months spent in Japan.
He said: "You got the same sort of excitement as when you went on holiday when you landed.
"The Japanese were very friendly people, so it was quite an exciting time. I enjoyed myself."
He added: "Being here when it first started off you didn't realise how big it was going to get.
"I feel lucky to be working for such a long time without any breaks. Here it was secure, and it's nice to keep working for 25 years."
The first ever Bluebird car rolled off the production line in 1986, and the all-electric Nissan Leaf will be the latest car to be manufactured in Sunderland from 2013.
Mr Skaife, 56, from Washington, remembers the day the Bluebird arrived.
He said: "When I first started and I got to build the Bluebird, it came in a kit form from Japan. I thought that was amazing how we were doing that.
"If I'm still around in another 25 years, I don't know where we'll be going by then. When I started here in 1986 I would never (have) imagined that we'd be running on battery cars in 25 years time, never in a million years."
He added: "To be honest when I started in '86 I didn't think I would be here in 25 years time, but I am and I'm proud.
"I think it's a good icon for the north-east of England and it's given a lot of people a good secure future.
"It's a good advertising feature for the North East as well, it just goes to show what we can do in the north-east of England."