North Sea ferry fall survivor Jeni Anderson 'lucky to be alive'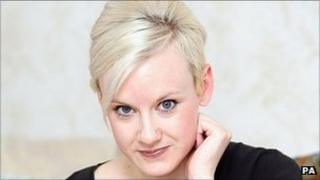 A woman rescued after falling from a North Sea ferry has told how she thought she was going to die.
Jeni Anderson, from Welwyn Garden City, Hertfordshire, said she felt "very lucky" to have survived the fall from the Newcastle to Amsterdam ferry.
The vessel was off the coast of Scarborough when the 23-year-old graduate fell on Monday night.
She said she spent 30 minutes in rough seas screaming in the hope of being seen by the crew of the DFDS ferry.
The ferry reversed course and managed to rescue the Northumbria University languages graduate before an RAF helicopter airlifted her to hospital.
Miss Anderson said: "I thought I was going to die.
"I just remember thinking that was going to be it. I remember thinking what a terrible way to go and I was going to try my best for that not to be how it ended.
"I remember swimming and screaming and trying to make sure that if anybody was looking they would see me."
She was on her way to spend a break in Amsterdam with three friends to celebrate graduating.
She said had been on a deck of the ferry at around 20:30 BST on Monday with two of her friends when she fell.
She added: "I just remember going over, I don't remember really how, I just remember the feeling of going over.
"Apparently I hung on for a little bit and then I obviously couldn't hang on any more and ended up in the water."
A spokesman for Humber Coastguard said the water temperature at the time would have been about 11C (52F).
He said: The lady was very lucky to come out of the water alive after all that time.
"The crew of the ferry were very efficient and managed to make visual contact with the lady, launched their rescue craft and managed to get her on board."