Gunman Raoul Moat 'ate dead mice'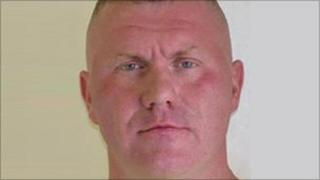 Gunman Raoul Moat grew so hungry while he was on the run from police he resorted to eating dead mice, an inquest heard.
A police negotiator said the comment was made by Moat during a stand-off, which resulted in the killer's death.
Officers attempted to strike up a rapport with Moat, described by the negotiator as a "broken man".
Moat was cornered in Rothbury, Northumberland last July after shooting one person and injuring two others.
A police negotiator, granted anonymity by the court and named only as A1, said: "He told us he had been starving and had been eating dead mice.
"Giving him food and drink was a positive action in which he learned to trust us a little bit; it taught him that not all police officers are bad."
The officer also described seeing Moat begin to breathe deeply, and "psyche himself up" before shooting himself dead.
When asked if he thought the former doorman was suicidal, he said: "100%, yes. I would best describe him as a broken man."
The inquest at Newcastle Crown Court continues.