Newcastle United's Bobby Cowell winner's medal up for auction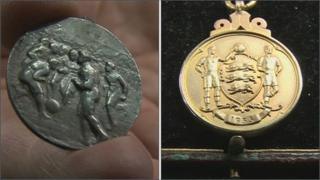 Two rare medals are expected to raise at least £5,000 at auction in Newcastle later.
The medals are a 1955 FA Cup winner's medal, given to Newcastle United legend Bobby Cowell, and a 1909 Sir Thomas Lipton Trophy winner's medal.
Mr Cowell's medal is expected to raise £3,000 to £5,000 with the rare Sir Thomas Lipton Trophy medal expected to raise £2,000 to £3,000.
Auctioneer John Anderson said the medals were "immensely precious".
The FA Cup medal was presented to Newcastle United's former right-back Bobby Cowell when the Magpies beat Manchester City in the 1955 final.
Mr Cowell was part of the Newcastle United squad that won the FA Cup in 1951, 1952 and 1955, and died in 1996.
The Sir Thomas Lipton Trophy medal was found at a car boot sale.
It was won by a team member of West Auckland football club after they beat future Italian giants Juventus 6-1 in the final.
The players had the medals made themselves and it is one of only four known to exist after the team returned from Turin as victors.