Grandmother saw her son killing Jordan Cooper in stab attack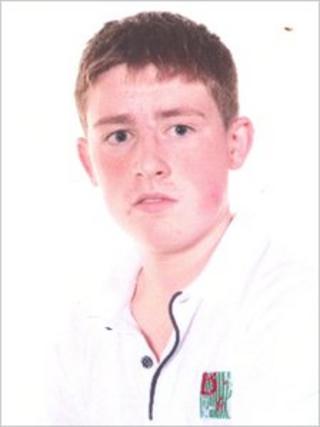 A grandmother witnessed her son killing her 14-year-old grandson at the home they shared in Wearside, a court has been told.
Alan Cooper, 32, admits killing his nephew Jordan Cooper in Washington in February, but denies murder on the grounds of diminished responsibility.
Jordan died after being stabbed seven times in a row over a mobile phone.
Susan Smith, told Newcastle Crown Court she called 999 and said: "Please help, my son's killing my grandson."
The court heard the three lived together at her home in the Fatfield area of Washington and that Alan Cooper struck after an argument about his mobile phone.
The teenager had borrowed his uncle's phone to contact a girlfriend over the internet, and his uncle teased him he was going to get in touch with her later.
Later on 28 February Mrs Smith heard the pair arguing about the incident and she defused the row by getting Jordan to watch television with her in her room.
Moments later, in the dark, Alan Cooper came in and lunged at his nephew and the attack continued through the house in front of Mrs Smith.
As paramedics took him away, the teenager said: "I'm going to die, aren't I?"
Mrs Smith told the jury her son was a bully from a young age and had previously attacked family members.
The trial continues.