Raoul Moat inquest: Taser 'never seen before' by police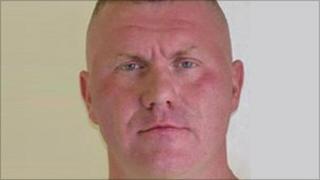 The Taser gun used on Raoul Moat had never been seen, held or fired before by the firearms team who shot at him, the inquest into his death has heard.
An officer who shot the gunman in the chest with an X-12 Taser said it was the first time he had fired that model.
He also told the Newcastle inquest he thought the shot had no effect on Moat.
Jurors were also shown the shotgun 37-year-old Moat used during the stand-off with police in Rothbury, Northumberland, in July 2010.
The inquest heard Moat yelled "it's going to end in this field tonight" during the stand-off which ended in his death after being on the run for a week after shooting three people, one fatally.
Moat, 37, shot dead his ex-girlfriend Samantha Stobbart's new boyfriend, Chris Brown, and critically injured Miss Stobbart, sparking the week-long manhunt during which he also shot PC David Rathband twice in the face, blinding him.
'Rocked back'
The West Yorkshire Police officer, named only as Zulu 24, had been called to relieve other officers at the stand-off.
He said negotiators developed a good rapport with Moat and the former doorman even told them where he had hidden a gun in woods as he did not want a child to find it.
But the officer said the tone of negotiations changed, with Moat saying he did not want to go to jail.
"One particular thing he did say was it was all going to end in this field tonight," Zulu 24 said.
Moat shuffled to his feet, bringing the gun from under his chin and pointed it at his temple, the officer said.
"I thought he was going to shoot himself."
Zulu 24, who was aiming an experimental X-12 Taser at Moat's chest, fired.
He said: "Moat let out a noise as if he had been struck by something. He has then rocked back slowly and then discharged the shotgun.
"I was aware my round had struck him. I don't think it had any effect."
Earlier, the officer's superior, a sergeant identified only as Tango 21, told the court he heard the "pop" of a Taser from the police line to his left, then "a second or two" later saw the X-12 armed officer beside him fire his Taser.
Sinister conversation
He said: "Moat let out a yelp. I heard a bang from Mr Moat's position and I saw his head rock violently to the left hand side.
"Then he fell back into the long grass."
Moat's body was pulled clear of the long grass by police officers and paramedics.
The inquest was told the second officer to fire an X-12 at Moat missed.
The officer, identified as Victor 24, said Moat's conversation had become more "sinister", then he became silent as if gathering his thoughts.
"My honest belief is that he was about to commit suicide," the firearms officer said.
Victor 24 aimed his X-12 at Moat and heard a nearby colleague fire a cartridge at him.
The officer said Moat, who was sitting down with his sawn-off shotgun at his temple, shrieked, rocked back then righted himself.
Victor 24 said he realised his colleague's Taser had not incapacitated Moat so he fired.
The officer did not see where his projectile went and accepted the cartridge was later recovered from the river.
Victor 24 said: "I didn't see it hit him, I didn't see any effects."
Almost immediately after he fired, there was then a "muffled bang" from Moat's direction, he said. The killer went limp and fell backwards.
The inquest heard the officers had received no formal training to use the weapons and had never fired a Taser Extended Range Electronic Projectile (XREP) projectile before.
It was the first time Zulu 24 had fired an X12 and he had received five minutes training on it that evening, the inquest heard.
But it operated the same as a normal shotgun, the officer said.
The inquest is expected to last a further two weeks.