Washing pole aids amateur weather woman from Jarrow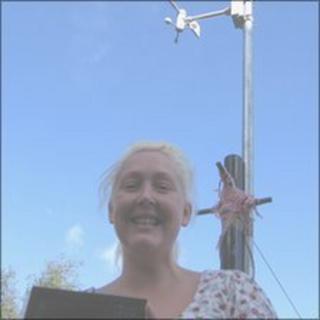 A would-be-weather woman from South Tyneside has set up a weather station in her garden using a washing pole.
Liz Martin, of Jarrow, 29, tweets forecasts using her makeshift station in between looking after her four children and doing housework.
Mrs Martin, who is pregnant, has always been fascinated by extreme weather, and after last year's snow, wanted to make accurate, doorstep predictions.
Her husband Matthew bought her the kit and after a week she had 57 followers.
Mrs Martin, of Primrose, who is expecting her fifth baby in March, tweets via @jarrowforecast, at least twice a day.
She said the station's forecasts were 75% accurate, according to the instructions.
She said: "I've always been fascinated by extremes in weather such as tornados and hurricanes and how we can be at their mercy.
"Also there can be a horrible loss of life with floods and the devastation they can cause - we have had the high winds recently.
"I've always wanted to predict the weather more accurately and have more control with better warnings.
"I know the Met Office do their forecasts but I think their station is as faraway as Albermarle in Northumberland."
'Submit observations'
The station consists of a rain gauge, an anemometer to measure wind speed and direction, and a hygrometer to measure temperature and humidity.
They can be bought via the internet and range in price between £500 and more than £1,000.
Mrs Martin said: "My predictions are more like doorstep forecasts.
"This is my hobby - it has only been set up for a week and a half and the station needs to be on a higher mast, probably on the roof - at the moment it is on a washing pole."
A spokeswoman for the Met Office said it encouraged weather watchers to post their observations on its Weather Observations Website (Wow).
She said: "We are helping to co-ordinate the growth of the weather observing community in the UK, by asking anyone to submit the observations they are taking.
"We hope it will help educate children about the weather and that this will become the UK's largest source of weather observations."