Kenton School teachers to strike over academy bid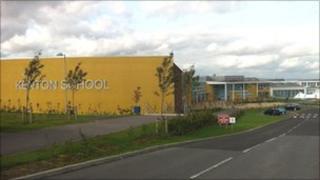 Staff at a Newcastle school have voted to strike over plans to turn it into an academy.
Teaching unions said more than 200 staff at Kenton School were protesting at the possible effect of academy status on their pay and conditions.
Head teacher David Pearmain said he believed staff had been misled.
The Education Secretary Michael Gove has said he wants all schools to become academies, which operate outside of local authority control.
The ATL, NASUWT and NUT unions said the change would allow governors to end nationally agreed pay and conditions and impose their own.
They said this could mean worse pay and longer hours for most staff.
'Selective information'
Mr Pearmain said: "The trade unions have been giving inaccurate and very selective information about it and not really explaining to their members what safeguards they would have.
"There is no threat to pay and conditions and, in fact, the law guarantees that."
Mr Pearmain said governors could change pay and conditions but said they would only use that right to increase payments to attract the best staff.
NUT regional organiser Ian Grayson said he accepted the school's assurances but stressed circumstances and priorities could change in the future, resulting in detrimental changes to pay and conditions.
Lawson Armstrong, senior regional officer for the ATL, said: "When members of ATL - the least militant education union - vote to take strike action, the governing body at Kenton School should sit up and take notice.
"We didn't want to have to ballot members to strike, but the governing body of Kenton School gave us no choice because, in plain speak, it is planning to privatise Kenton School."
The strikes are due to take place at Kenton School on 22, 27, and 29 September.