Newcastle 'Lego Man' sells for more than £1,000 in online auction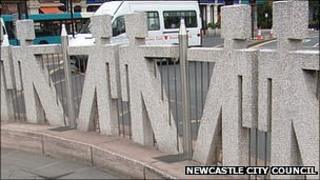 A figure from the 'Lego Men', a public piece of art in Newcastle, has sold for more than £1,000 in an online auction.
One of the 50 figures from Ray Smith's Shoulder to Shoulder artwork was put up for auction on 5 September.
After 38 bids, the statue was won for £1,254 - with money from the sale going to the Newcastle Fund which benefits charities across the city.
Installed in 1999, they once stood in the city's Haymarket area before going into storage in 2008.
Newcastle City Councillor Nick Forbes, said: "The Lego Men are a 'love it or hate it' piece of urban art, and I'm really glad that this one will go to a good home.
"Instead of gathering dust in a storage area, the statue has raised more than £1,200 for the Newcastle Fund which will help voluntary organisations across our city deliver vital services.
"I'll make a decision shortly about the possibility of auctioning off other statues, but this auction has been a huge success and I'd like to thanks all those who bid."
The figures cost £270,000 when they were installed, weighing more than 70st and each standing at 6ft 7in tall.