Pet cat bought for terminally-ill boy is shot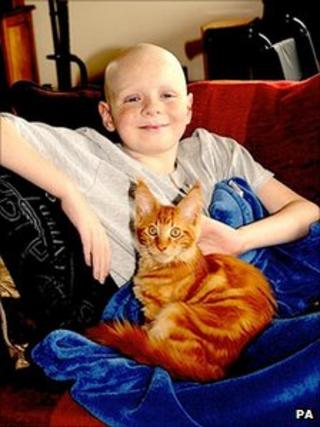 A pet cat which was bought to cheer up a terminally-ill boy has been put down after being shot with a rifle.
Ben, a Maine Coon red tabby, was bought for Henry Dancer, 12, after he was diagnosed with cancer in 2009.
The cat went missing from their home in Cornsay on 19 August, returning home two days later badly injured.
Henry lost his battle with cancer in November 2010. "We know [Ben] will be up there sitting on Henry's lap again," said Henry's mother Jane.
Mrs Nattrass said: "Ben brought great joy to Henry and, whilst he did not know the severity of his illness, he got a lot out of having Ben around in his final months.
"... Having Ben as part of our family has helped us move forward. He had such a great character and enjoyed going for walks with us and our other cats. He was very special to us."
RSPCA inspector Kaye Smith said: "This is such a heartbreaking story. What happened here caused a great deal of suffering to this cat but also to the family that he was an extremely important part of."
Anyone with any information is asked to contact the RSPCA.