Sunderland man jailed for killing a second person in high speed crash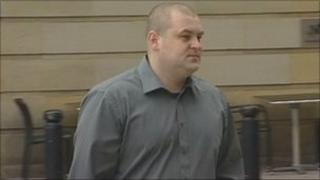 A driver who was previously jailed for killing his friend in a motorbike crash, has been jailed for a second time for killing his girlfriend.
Learner driver Graeme Eden, 31, of Halesworth Drive, Sunderland was on the A183 in Penshaw, when he lost control and crashed into an oncoming car.
Newcastle Crown Court heard how his passenger, girlfriend Victoria Little, 30, died at the scene in November.
He admitted causing death by dangerous driving and was jailed for seven years.
He was also banned from driving for 10 years.
Eden had previously been jailed for three years for causing death by careless driving after killing his passenger John Hancock in a high speed motorbike crash in 2002.
Judge Brian Forster said Eden had "learned little" from his 2002 conviction and described his driving as "horrific".
'Loving person'
Ms Little died at the scene having suffered multiple injuries. She was the mother of a nine-year-old daughter.
In a statement, her parents said: "Victoria was a loving person, and treasured by her family.
"Her death has devastated us all and is something that will always be difficult for us to come to terms with.
"Graeme Eden has deprived our granddaughter Paige of her mother, and her best friend."
The court heard how Eden owned several sports cars, despite never passing his test.
After smashing his Toyota Celica GT4 in November, one witness reportedly yelled: "What the hell were you driving like that for?"