Uncle guilty of murdering Jordan Cooper in Washington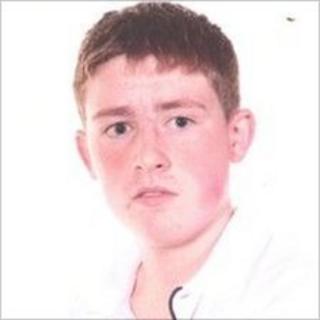 A Wearside man has been convicted of murdering his teenage nephew in a row over a mobile phone.
Alan Cooper, 32, had admitted killing 14-year-old Jordan Cooper in Washington in February, but denied murder on the grounds of diminished responsibility.
But he was convicted of the offence at Newcastle Crown Court and will be sentenced on 23 September.
Jordan, who lived with his uncle and grandmother in Newriggs, Washington, was stabbed seven times.
During the five-day trial, the jury heard how Cooper admitted killing his nephew but had claimed he had suffered an abnormality of mind.
It also heard how he had a history of violence towards family members while drunk.
'I'm going to die'
Cooper and his nephew had bickered after the teenager used his uncle's phone to contact a girlfriend, the hearing heard.
Cooper's mother Susan Smith tried to defuse the row and she and her grandson went off to watch television together in her room.
But as they sat the dark, Cooper burst in and attacked Jordan.
Mrs Smith dialled 999 and said: "My son is killing my grandson."
The hearing also heard how Jordan said to a paramedic: "I'm going to die, aren't I?".