Penshaw Monument: Second chance to visit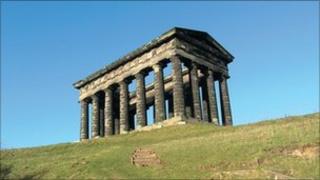 Some disappointed visitors who were turned away from a North East landmark when an open day was inundated have been given another chance to see it.
More than 500 people turned up to the first opening of Penshaw Monument in 85 years last month.
The National Trust said it had been caught out by the level of interest and only 75 had the chance to climb it.
But contact details were taken and some of those who missed out first time were invited along on Saturday.
The National Trust said more than 1,000 people registered their details and some of those had been invited to visit this weekend.
There will be a series of further openings for those who have already registered and then it is hoped there might be more regular openings in the future.
Visitors climb up a hidden spiral staircase in one of the columns but only five people can go up at a time.