Durham Cathedral welcomes woman organist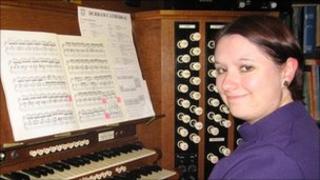 A woman has made history by becoming the first female organist at Durham Cathedral.
Francesca Massey, 28, has been appointed sub-organist and said she is thrilled with her new job.
She said: "It's a great honour, it's a spectacular building and many hundreds of years of musical tradition are in this cathedral so it's wonderful to be part of that.
"It's a fantastic organ, one of the best in the country and it's just such a delight to have the opportunity to play it every day."
Ms Massey began learning the piano first but was quickly attracted to playing the organ.
She began playing in her parish church in Halesowen, in the West Midlands, where she grew up.
'Wonderful feeling'
At 17 she became the first ever woman at Gonville and Caius College, Cambridge to be awarded an organ scholarship.
She has been assistant at Great St Mary's Church, Cambridge and most recently was assistant director of music at Peterborough Cathedral.
She was persuaded to apply for the job of sub-organist at Durham Cathedral when she found out it now had girl choristers.
She's relishing her new challenge.
She said: "It's a wonderful feeling to be playing in front of a congregation but it's a big responsibility because obviously what you do is so audible to everyone so you have to be on your top form at all time"
Dean of Durham, The Very Reverend Michael Sadgrove, said he was delighted with the appointment.
He said: "We appoint the best organist we can get and this time we appointed Francesca who met all the needs we were asking for and has proved herself to be a wonderful musician.
"I think it is only recently that women have come to the fore in these historic roles in cathedrals but I'm delighted to see it happen."
Ms Massey is no stranger to live performances. Her recital venues have included many major concert halls, cathedrals and churches in the UK, and she has also performed throughout South Africa, Sardinia, Sweden and Denmark with Caius Choir, with whom she has recorded a number of CDs.