Run challenge for widow of Red Arrow pilot Jon Egging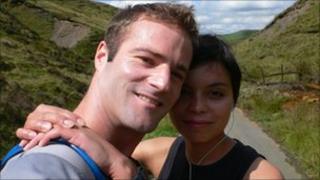 The widow of the Red Arrows pilot killed when his plane crashed will join about 50,000 other runners to take part in the Great North Run later.
Dr Emma Egging said it will be tough and emotional to run in his memory but she has been "bowled over" by the support she has received.
Flt Lt Jon Egging, 33, from Rutland, died in the crash in August.
The Red Arrows will pay tribute to him by flying over the Tyne Bridge in the "missing man" formation at the event.
Dr Egging said it meant an awful lot to her to be given a place in the run and to do it in her husband's memory. She will wear a number four as her husband flew "Red 4".
'Really passionate'
She said: "It has been tough, you know, but running was something we did together.
"It was something we really enjoyed doing and it's something that's going to help me in the next few months time to come to go on and get the strength to work in Jon's name and to do everything he would have wanted us to do."
She said that despite the Red Arrows' long association with the event she had never seen them at the Great North Run. She said it would be hard to see them flying in his memory.
"It's going to be tough, but I am up for the challenge and Jon would have wanted me to be here," she said.
The Jon Egging Trust is being set up to give disadvantaged young people opportunities to help them achieve their potential.
Dr Egging said: "Jon was really passionate about using his skills and his position, not only as a Red Arrows pilot but he was also a qualified flying instructor in the RAF.
"So Jon really wanted to use those skills to help and support young people to be inspired and to develop their natural talents to be the best they can be."
More than 50,000 runners are expected to take part in the annual half-marathon, which ends in South Shields.