Donkey duo retire from Northumberland attraction after 20 years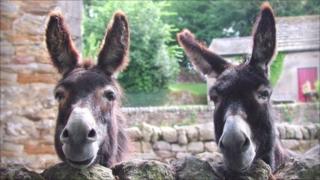 Two donkeys are putting up their hoofs after spending more than 20 years working at the birthplace of a Northumberland artist.
Freda and Esmeralda have been one of the main attractions at Cherryburn House in Stocksfield, where artist Thomas Bewick was born in 1753.
The donkeys, both nearly 25-years-old, will now spend their time at a donkey retreat near Hexham.
"We are all going to miss Freda and Esmeralda," said manager Mick Wilkes.
One of Northumberland's most well-known artists, wood engraver and naturalist Thomas Bewick, was born at Cherryburn.
The farmstead overlooking the Tyne Valley in the 18th Century, inspired Bewick's work - engraving the scenes of the pastoral landscapes into wood.
Fred and Esmeralda played a key role at the house, instilling the natural and rural life that once inspired Bewick.
Mick Wilkes, said: "We are all going to miss Freda and Esmeralda who have been a popular attraction at Cherryburn for many years, but in discussions with the donkey sanctuary, we feel that they can receive more expert care at their new home in Hexham."