David Thompson bravery award for Sunderland fire rescue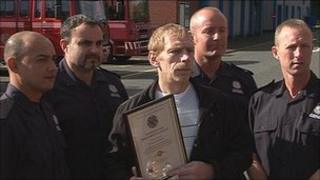 A Sunderland man who rescued an elderly woman from her blazing home has received a bravery award.
David Thompson, of Craigshaw Square, Hylton Castle, went into the burning home of 87-year-old Mary Pells Black who was on fire and trapped.
Despite Mr Thompson's efforts Mrs Black died shortly after the July incident.
Tyne and Wear Fire and Rescue presented Mr Thompson with the Bravery and Meritorious Conduct Award for his "selfless act" of heroism.
Mrs Black's house had suffered a gas explosion on 1 July. She was on fire and trapped behind her locked front door.
Mr Thompson broke a living room window to get in before using a coat to prevent the flames from causing Mrs Black further injuries.
Unable to escape through the front door, he picked up his neighbour and made his way through the burning kitchen.
As he was approaching the back door, a second explosion blew both of them out of the rear of the property.
He managed to carry Mrs Black to his home next door, where he put water on her burns until firefighters and paramedics arrived.
However, Mrs Black was unable to survive her injuries and died several hours later.
Mr Thompson, who suffered burns to his hands, said: "I didn't think about myself at the time, it was just instinctive. I just did what I had to do."
Chair of Tyne and Wear Fire and Rescue Authority, Bob Heron, who presented the award, said: "Without doubt Mr Thompson placed himself at extreme risk throughout his rescue of Mrs Black.
"It is extremely sad and unfortunate that Mrs Black died later that day from her injuries.
"However Mr Thompson's brave actions gave the family a few precious hours to share before her passing."