The man trying to make Sunday parking free in Newcastle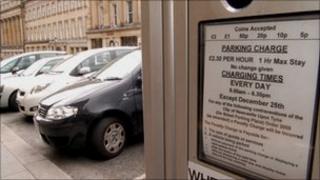 Free parking in Newcastle City Centre on a Sunday is Gary Malloy's dream.
The 51-year-old from Gateshead, now living in London, has been telephoning and emailing the council since 2007.
More regularly over the last four months he has been trying to persuade Newcastle City Council that it is out of step with other authorities which do not charge.
He cites his parents, who still live in Gateshead: "They don't want to park in some car park half a mile away from where they want to be, and still pay £2 for the privilege, and all the while the streets are empty."
The council says it has had a "lengthy dialogue" with Mr Malloy and defends its Sunday parking policy.
Mr Malloy has also tried contacting the council leader and his deputy, only to be disappointed at the lack of response.
He believes free Sunday parking would attract shoppers to the city centre and asks why the city's Alive After Five initiative tries to achieve this midweek but not at the weekends.
The council responds that it is precisely because it is offering free parking after 17:00 on a weekday that it cannot also afford to offer free parking on a Sunday.
Newcastle 'different'
In an email to the council leader Nick Forbes and his deputy Joyce McCarthy he said: "If every other major city can afford to offer free parking on a Sunday, what is so different about Newcastle? How can Sunderland offer free parking and not Newcastle?"
His point is that on-street parking on a Sunday is free in Durham, Hexham, Alnwick, Middlesbrough and Sunderland, among others.
Of comparable cities, Sheffield, Leeds, Edinburgh, Glasgow, Bristol, Manchester and Birmingham also do not charge for on-street parking on a Sunday.
He concedes Liverpool does charge. Bristol and Manchester are planning to introduce charges and Birmingham is considering it.
In a statement to the BBC the council said it charges for on-street parking on a Sunday to "help regulate parking and keep traffic moving on what has become a busy shopping day".
It said it encouraged shoppers with a £2 all-day charge in its car parks and said: "We believe Newcastle's parking charges represent good value for money for motorists who want to visit our city."
'Spurious reasons'
Mr Malloy is not convinced: "If the council were honest and said we charge on a Sunday because it earns us £100,000 a year or whatever then I'd probably accept that. But they don't.
"They come up with spurious reasons why everyone should be paying for parking on a Sunday. I think they're just a bit mean, quite frankly."
Many small shops and cafes in the city centre do not open on a Sunday and some of those which do say the lack of free parking is driving trade to the Metro Centre in Gateshead instead.
Bill Crowney, who runs coffee shop Kaffeccinos, said: "I think Newcastle City Council need to understand having the Metro Centre so close it's really bad that they've got all these thousands of free parking spaces and there's nothing at all in Newcastle."
He criticised what he calls the council's "lack of vision" saying: "If you can actively encourage more people to come in and stay in the city they're going to be spending more money in the city.
"You need to look at the long-term strategy for success, not something which is going into the pot this financial year. You need to have a long-term strategy."