Raoul Moat: Taser 'did not make him shoot himself'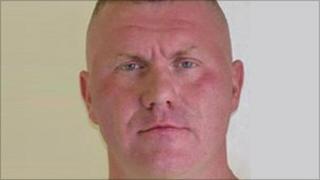 A consultant neuropathologist has told the Raoul Moat inquest he did not believe the gunman shot himself because a Taser caused his hand to contract.
Dr Ian Schofield said there was no definitive evidence of an electrical discharge from the non-approved Taser which hit Moat's left arm.
He said that even if it had happened it would not have made him act involuntarily.
The jury has been told Moat's right hand was on or near the trigger.
The 37-year-old former doorman died following a six-hour stand-off with armed officers in Rothbury, Northumberland.
He had been on the run for a week after shooting his ex-partner, Sam Stobbart, murdering her new boyfriend, Chris Brown, and later blinding Pc David Rathband.
Dr Schofield, who is an expert on how electrical currents affect the nervous system, said: "Mr Moat was struck by an XREP projectile on the left forearm.
"There is no definitive evidence to suggest that electrical discharge of any type was felt by Mr Moat.
"In the event that electrical discharge did occur, in my opinion, this would only precipitate an action for which there was a pre-existing, conscious intent."
He said that while Moat might have been startled by the impact of the Taser round, any response to the shock would have happened within two-tenths of a second.
Previously in the inquest, a number of witnessses told how they heard Moat shout "Ow" after the Taser was fired, and rock backwards and then forwards before pulling the trigger.
The hearing, now in its third week at Newcastle Crown Court, has been adjourned until Monday. It is expected to last four weeks.