Jobs and investment for Ashington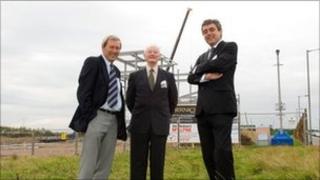 Up to 300 jobs have been secured by a housing group's plans for South East Northumberland.
Business leaders in the region are also hopeful paint manufacturer AkzoNobel will commit to a £100m investment on a 25-acre site at Ashwood Business Park.
The Bernicia housing group's new headquarters will help maintain jobs at Ashington and bring 100 from Newcastle.
Councillor Roger Styring said the area could see a "huge boost to jobs and business".
Over the last three years the Bernicia group has invested £44m and built 230 new homes in South East Northumberland.
In the coming three years it plans to invest a further £20m in a further 200 new homes - as well as £35m in improving existing homes over the coming five years.
Mr Styring said: "Plans for Bernicia's new headquarters are already well-established, and if the proposed AkzoNobel development gains planning permission we could see a huge boost to jobs and business in this area of Northumberland."
Bernicia is also said to be launching a new apprenticeship programme providing training opportunities in both business administration and property maintenance.